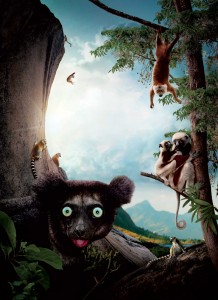 Island of Lemurs: Madagascar is a documentary that follows Dr. Patricia C. Wright's mission to help lemurs, the highly evolved creatures who arrived on Madagascar millions of years ago as castaways but are now highly endangered.
This teaching and learning resource for schools is designed to support a visit to the IMAX Cinema to see the film, although it can be used without having seen the film as part of a topic about Sustainability; Conservation; Habitats and Rainforests.
Pupils between the ages of 7 and 13 will benefit from working through the activities. Written by a practising teacher, they address aspects of Geography; Science; History; Literacy and ICT.
Running time: 41 minutes
Director: David Douglas
Cast: Morgan Freeman; Hantanirina Rasamimanana; Patricia Wright
Genre: Documentary
Classified U by the British Board of Film Classification
Related links
www.odeon.co.uk/films/island_of_lemurs_madagascar/15344
www.odeon.co.uk/bfiimax-education