How to Train Your Dragon
Level: Primary, 5-11
Subjects: History, Literacy
How to Train Your Dragon is set in the mythical world of burly Vikings and wild dragons, based on the book by Cressida Cowell. The story centres around a Viking teenager, who lives on the Isle of Berk, where fighting dragons is a way of life. Initiation is coming and this is his one chance to prove his worthiness to his tribe and father. But when he encounters, and ultimately befriends, an injured dragon, his world is turned upside down.
Activities on the interactive download and resource website are suitable for a film-based cross-curricular teaching and learning project for children between the ages of 5 and 11. They can be used in a large group setting, via an interactive whiteboard, networked on a suite of computers or for small group or individual work at the computer.
The content is rich in resources about the life and times of the Vikings and these can be printed off for use in long-term research projects for History or Literacy.
Link to Interactive content now available to download (540MB)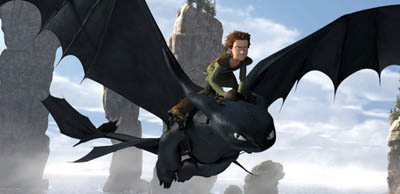 Downloads can take up to 30 minutes depending on connection.
Once download is complete unzip the folder and open the file 'start.exe' (Windows users) or 'HTTYD – OSX' (Mac users)
Director: Dean DeBlois, Chris Sanders
Starring: Voices of Jay Baruchel, Gerard Butler, America Ferrera
BBFC classification: U, PG
™ and © 2010 DreamWorks Animation LLC. All rights Reserved