The Boy in the Striped Pyjamas
Level: Secondary, 11-14, GCSE
Subjects: Citizenship, English, History
The Boy in the Striped Pyjamas is an unforgettable and timeless story seen through the innocent eyes of Bruno, the eight-year-old son of the commandant at a concentration camp, whose forbidden friendship with a Jewish boy on the other side of the camp fence has startling and unexpected consequences.
This educational resource features a range of carefully designed tasks enabling students to engage with different text types, as well as exploring the key messages of this fictional story.
Particularly suitable for English at age 11 to 14, the site could also be used in any subject to develop students' emotional and moving image literacy.
Activities focus on still and moving images alongside script elements, publicity materials and extracts from an exclusive interview with the author, John Boyne. The tasks are designed to exercise skills of reading, writing, speaking and listening as students explore the film from a number of angles.
Link to Interactive content now available to download (1.1GB)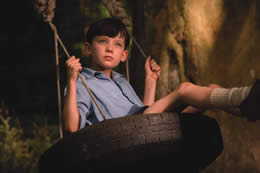 Downloads can take up to 30 minutes, depending on connection.
Some components do not work on Apple Mac's or iPad's.
Link to resource website
Director:   Mark Herman
Starring:   Vera Farmiga, David Thewlis, Rupert Friend, Sheila Hancock
BBFC classification: 12A
© 2008 Miramax Film Corp. All Rights Reserved.